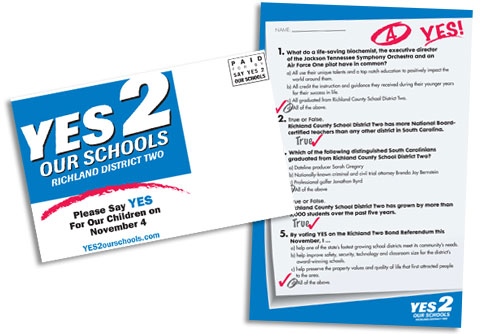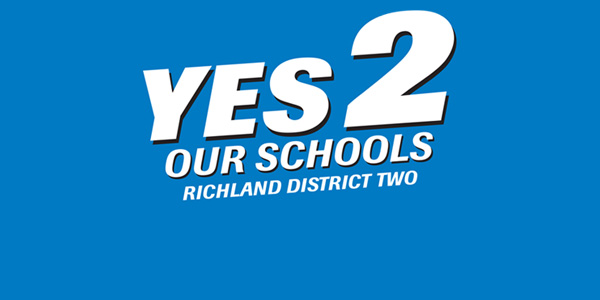 Situation
Richland County School District Two (Richland Two) is one of the fastest growing school districts in South Carolina. In 2000 and 2004, the district successfully pursued bond referenda to construct new schools, with both initiatives passing with approximately 70% of the vote. In July 2008, the school board approved a ballot question to ask the community to approve a $306 million bond referendum to meet the facility needs of the district, which had grown by nearly 5,000 students in the past five years. Davis Public Relations and Marketing was hired by the community-based "Say Yes 2 Our Schools" committee to manage all communications activities for the campaign. We conducted a poll of registered voters in Richland Two to test our messages and to evaluate concerns about the viability of asking for a millage increase ($108 per year on a $100,000 home) in such a difficult economic climate. The poll results were concerning with only 49% indicating support and only 6% undecided. The poll identified the key concerns being those who thought the bond request was coming at a bad time due to the economy and confusion about the specifics of the tax increase. Messages with the most credibility centered on the rapid growth in the district; the fact that the bond would meet the demand of the growing community while keeping property values strong; and the proven accountability of the district during previous referenda. Despite discouraging results, the poll helped us target our key messages and identify a target universe of key voter groups.
Our Approach
Davis PR worked with the district to gather information on successful graduates and district accomplishments, which we used to draft direct mail pieces and website copy. We developed a campaign website, www.yes2ourschools.com, with facts about the bond, success stories of district graduates and a volunteer sign-up feature. We established a Facebook group targeting parents, teachers and district residents, while the student committee chair set up a MySpace page targeting students to encourage them to pass information to their parents. We conducted a phone bank to narrow our target universe of undecided voters. We also sought and received the endorsement of The State's editorial board as well as candidates for local and statewide races who reside in the district.
Results
The bond referendum passed with 68% of the vote – a remarkable accomplishment considering initial poll results and the difficult economic climate. All but two precincts passed the referendum, with precinct support ranging from 52.55% to 85.15%. The other two local districts who pursued referenda also passed their bonds, publicly crediting Richland Two's success for helping their own efforts.